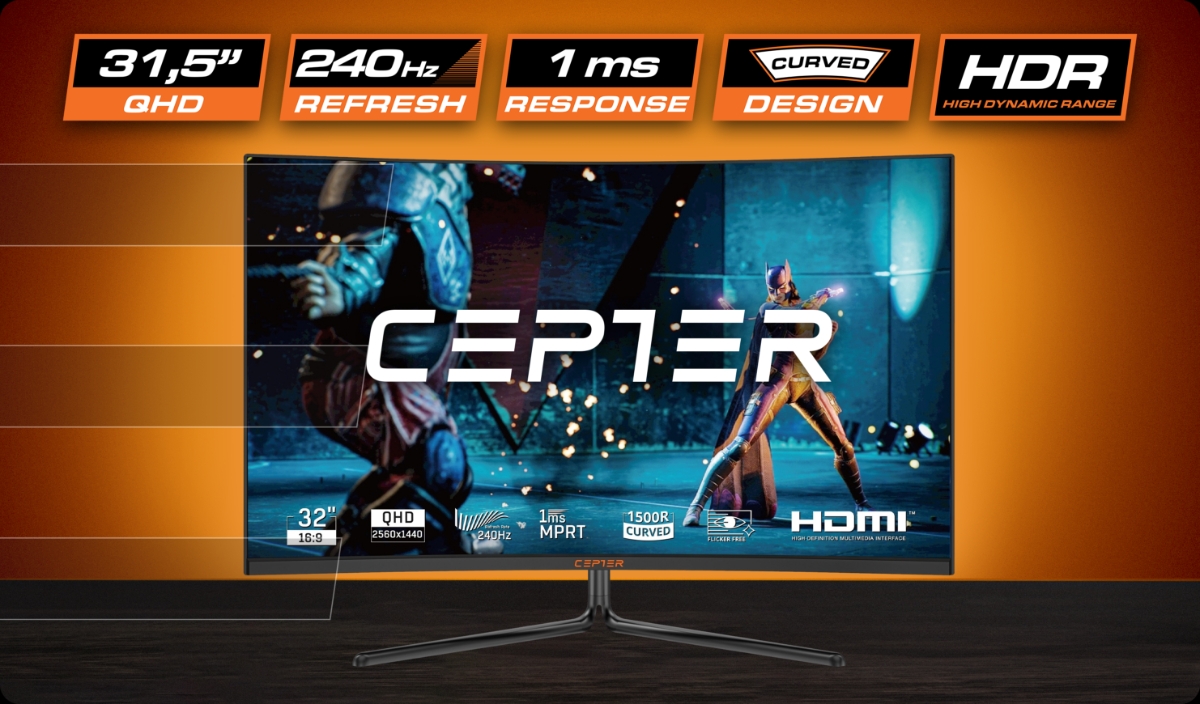 The 31,5-inch Cepter E-Sport Pro offers the ultimate speed for competitive gaming with amazing QHD quality! With a stunning 240 Hz refresh rate and 1 millisecond MPRT response time, the E-Sport Pro gaming monitor ensures a competitive edge when every split-second counts.
240 Hz refresh rate and 1 ms response time
The Cepter E-Sport Pro is the perfect monitor for competitive gaming with its 240 Hz refresh rate and 1 millisecond MPRT response time. This combination makes for an enjoyably smooth and efficient gaming experience: it prevents motion blur and ghosting, providing a crisp image and smooth motion performance in the most fast-paced games. You can react to on-screen game events with lightning speed and accurately detect even the slightest movements of your opponents.
Vivid colors
The monitor has a 99 % sRGB color gamut and HDR400 support, so you can enjoy games and entertainment with bright and lifelike colors. Thanks to the VA panel's high 3000:1 contrast ratio, you'll see a wider range of colors from the brightest whites to the darkest blacks. This translates into a more nuanced and detailed picture, as you can better distinguish details in shadows, for example in games or movies.
Curved design for immersive gaming
The curved monitor offers a unique atmosphere for first-person action games or, for example, driving and flight simulators. The curved design not only enhances the feeling of immersion but also reduces image distortions and reflections. A moderately curved screen pleasantly fills your field of vision, making you feel like you're in the focal point of action.
FreeSync
FreeSync technology synchronizes the refresh rate of the display with the frame rate of a compatible graphics card. This reduces image stuttering and tearing, for example in fast-paced game scenes, to keep motion performance smooth in every situation.
Stylish and ergonomic design
The elegant monitor features a simplified, 3-sided frameless design and a red accent lighting on the back. The screen has an adjustabl tilt angle of -5 ~ 15 degrees. The stand is removable, allowing you to attach the monitor to an external stand with a 75 x 75 mm VESA mount.
Excellent eye ergonomics
Low Blue Light and Flicker-Free technologies are designed to reduce eye fatigue during long sessions. Low Blue Light filters out blue light, which is hard on the eyes, while Flicker-Free technology reduces the flicker of the screen backlight that is invisible to the eyes, making prolonged use more comfortable for the eyes.
Connections
2 x DisplayPort 1.4
2 x HDMI 2.1
audio 3,5 mm