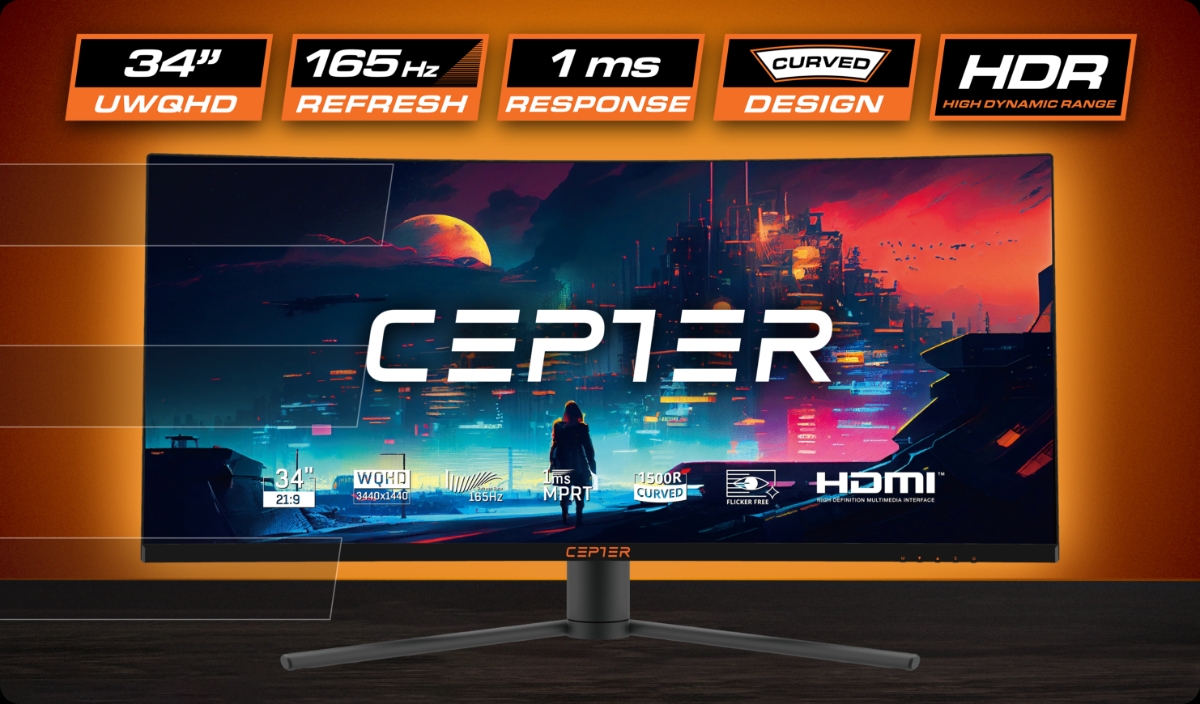 The 34-inch Cepter Atilius is an ultrawide monitor with a super-fast 165 Hz refresh rate. Enjoy immersive gaming experiences with crisp UWQHD resolution and sharp motion reproduction!
165 Hz refresh rate and 1 ms response time
The lightning-fast Cepter Atilius monitor has a 165 Hz refresh rate and a 1 millisecond MPRT response time. This powerful combination makes for a smooth gaming experience: it prevents motion blur and ghosting, providing a sharp image and smooth motion performance in fast-paced games. You can react to on-screen game events with lightning speed and accurately detect even the slightest movements of your opponents.
Excellent contrast and HDR support
Thanks to the VA panel's high 3000:1 contrast ratio, you'll see a wider range of colors from the brightest whites to the darkest blacks. This translates into a more nuanced and detailed picture, as you can better distinguish details in shadows, for example in games or movies. HDR 400 color support allows you to achieve incredibly nuanced and vivid color reproduction in HDR-compatible content.
Curved design for an immersive gaming experience
The curved ultrawide  (21:9) monitor gives you a wide perspective of the game world, which creates a unique atmosphere for first-person action games or driving and flight simulators, for example. The curved design not only increases the sense of immersion, but also reduces image distortion and reflections. The wide screen fills your field of vision in a pleasant way, allowing you to feel like you're at the center of the action.
Efficiency for productive work
The ultrawide monitor has more horizontal desktop space than the standard 16:9 aspect ratio display for multitasking and handling complex Excel spreadsheets, for example. With Picture-in-Picture and Picture-by-Picture, you can also split the screen between two different image sources, giving you even more flexibility.
Excellent ergonomic features
Low Blue Light and Flicker-Free technologies are designed to reduce eye fatigue during long sessions. Low Blue Light filters out blue light, which is hard on the eyes, while Flicker-Free technology reduces the flicker of the screen backlight that is invisible to the eyes, making prolonged use more comfortable for the eyes. The monitor stand allows you to adjust the height, swivel and tilt angle of the screen.
Stylishly simplified design
The Cepter Atilius 34" has a stylishly minimalist and streamlined design. The monitor features a compact and sturdy removable V-shaped stand with 75 x 75 mm VESA mounting, allowing you to attach the monitor to an external stand. The front of the screen features a 3-sided frameless design, while the back has a subtle red lighting that can be controlled from the OSD menu.
Adaptive Sync
Adaptive Sync technology synchronizes the refresh rate of the display with the frame rate of a compatible graphics card. This reduces image stuttering and tearing, for example in fast-paced game scenes, to keep motion performance smooth in every situation.
Convenient extra features for gaming
The OSD menu on the screen gives you access to useful additional features designed for gaming, to optimize your gaming experience. For example, you can set a fixed crosshair on the screen to improve your accuracy, or easily set the display settings to a mode optimized for FPS/RTS games.
Connections
2 x HDMI 2.0
1 x DisplayPort 1.4
1 x audio 3,5 mm