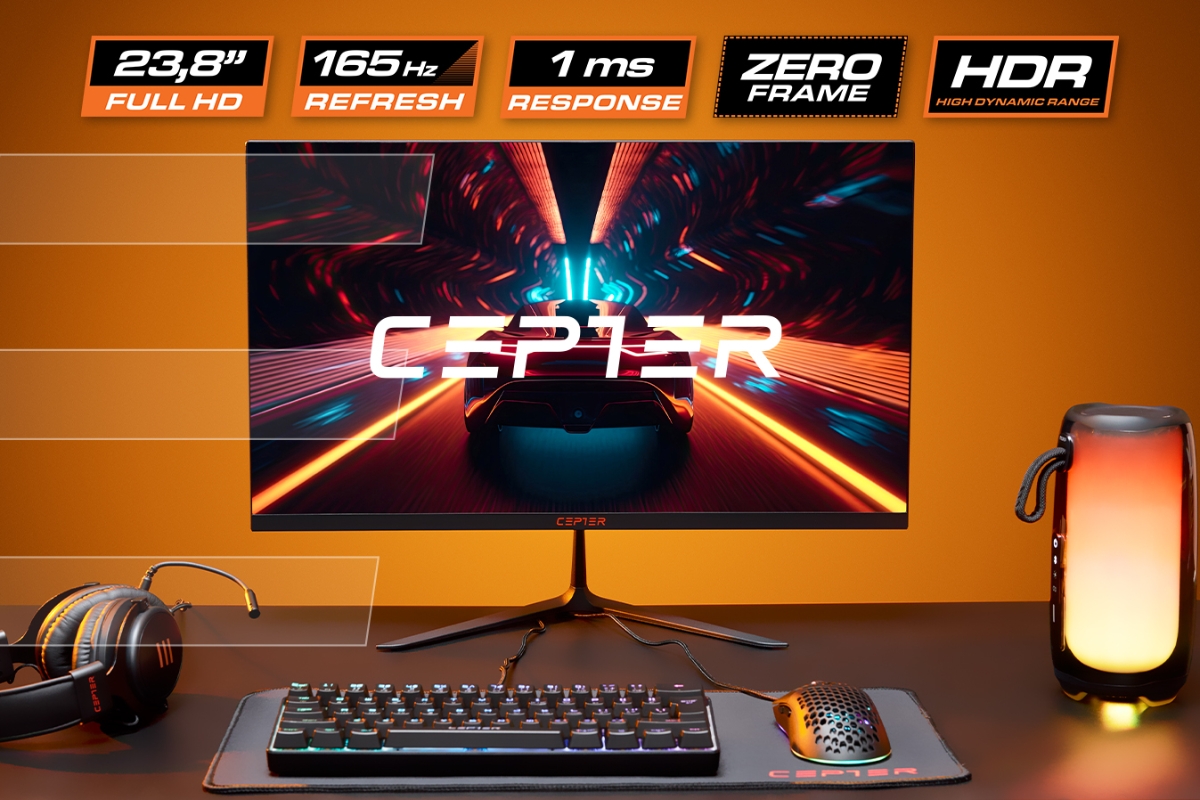 Enjoy a responsive Full HD gaming experience with the 23,8-inch Cepter Alpha gaming monitor! A super-fast 165 Hz refresh rate and a response time of only 1 millisecond ensure a competitive advantage in games that require fast reactions.
Lightning fast 165 Hz refresh rate
Maximize your competitive advantage in online gaming! An incredible refresh rate of 165 Hz and a response time of only 1 millisecond in Overdrive mode reduce motion blur and make gaming enjoyably smooth. Sharp motion reproduction and a fast refresh rate ensure that you can observe small and quick movements precisely, and react to on-screen events lightning fast.
Excellent contrast and HDR support
Thanks to the HDR support and the high 4000:1 contrast ratio of the VA panel, you can see a wider range of colors from the brightest whites to the darkest blacks. In practice, this shows up as a more vivid and detailed image, because you can better distinguish the details in the shadows, for example in games or movies.
AMD FreeSync and G-SYNC Compatible
Cepter Alpha supports AMD FreeSync and G-SYNC Compatible technologies, which synchronize the refresh rate of the monitor with the frame rate of the graphics card. The dynamically adaptive refresh rate minimizes image tearing and stuttering, keeping the image smooth and sharp even in fast-paced motion. The G-SYNC Compatible technology can only be used with a DisplayPort cable.
Modern design with thin frames
Thanks to the stylish Zero-Frame design, the frames surrounding the display panel are almost non-existent, which creates a modern appearance and an unobstructed viewing experience. Zero-Frame also enables seamless multi-screen setups, because the thick frames do not distract the transition from one screen to another.
Protects your eyes
Low Blue Light and Flicker-Free technologies are designed to reduce eye fatigue during long sessions. Low Blue Light filters blue light that strains the eyes, and Flicker-Free technology reduces the flickering of the backlight, which makes long-term use more pleasant for the eyes.
Ergonomically adjustable
The monitor has a slim and compact metal stand, that is easily removable, allowing you to mount the monitor to an external stand with a 75 x 75 mm VESA mount. Alpha 23,8" has an adjustable tilt angle between -5 ~ 15 degrees.
Connections
1 x HDMI (max. Full HD @ 165 Hz)
1 x DisplayPort (max. Full HD @ 165 Hz)
1 x USB-A (charging)
1 x 3.5 mm audio