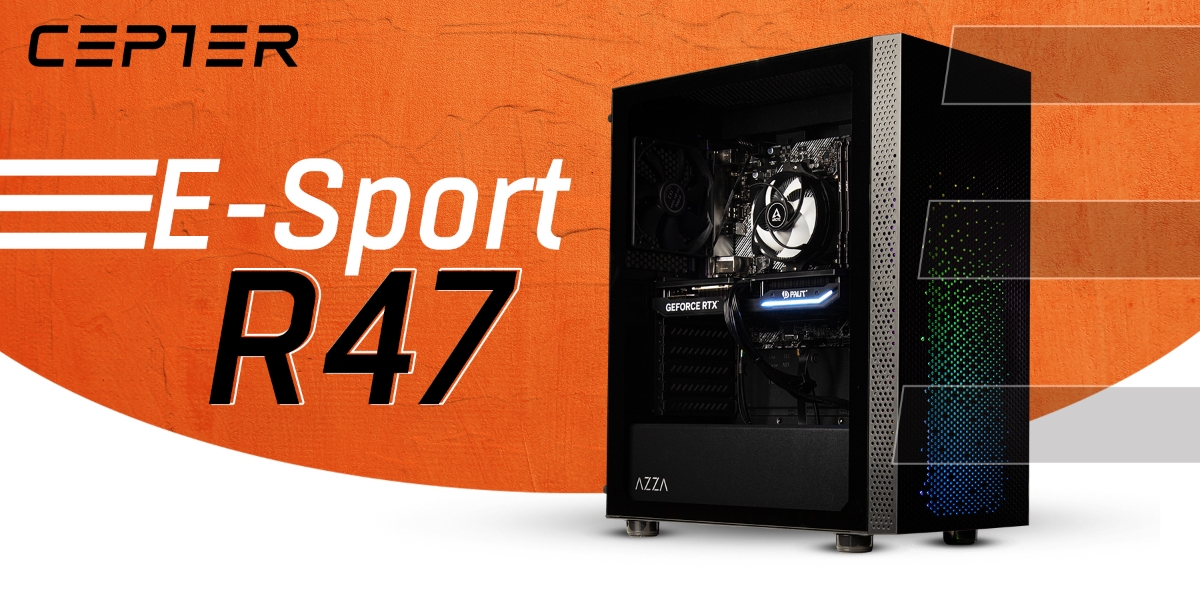 Enjoy excellent performance for gaming, streaming and creative work! Assembled inside of a stylish AZZA Celesta 340 case, the Cepter E-Sport R47 configuration has a GeForce RTX 4070 graphics card, a Ryzen™ 5000 series processor and 16 GB of Kingston FURY Beast memory.
Fantastic performance
The Cepter E-Sport R47 computer provides you with great power, especially for gaming and other applications that require graphic performance. In addition to the GeForce RTX 4070 graphics card, the PC has 16 GB of Kingston FURY Beast RAM, an AMD Ryzen™ 7 5700X processor and a 1 TB Kingston NV2 M.2 SSD. The computer is based on the ASUS PRIME A520M-K motherboard.
Palit GeForce RTX™ 4070 Dual 12 GB
The new Ada Lovelace architecture of GeForce RTX 4070 graphics card delivers incredible gaming and multimedia performance for even the most demanding gamers and content producers. Enjoy amazing DLSS 3 AI boost, more accurate ray tracing and optimized latency with NVIDIA Reflex!
Ray tracing and DLSS 3
The Ada Lovelace architecture makes the game worlds startlingly realistic. Ray tracing simulates the real-world behavior of light with RT cores, and does it even more precisely than before. DLSS 3 technology enhances performance, especially when playing with high resolutions, utilizing the smart AI-powered upscaling and the new Optical Flow Accelerator.
AMD Ryzen™ 7 5700X
The Ryzen 5000 processor has been manufactured with an advanced 7-nanometer process. Zen 3 architecture delivers amazing, modern performance for all use cases, ranging from HD gaming to streaming and editing photos and videos. The Ryzen™ 7 5700X processor is equipped with 8 cores and 16 threads, and a 3.4 GHz base clock and up to 4.6 GHz boost clock.
Carefully assembled and tested
Cepter PC's are made with carefully selected premium components, and they are professionally assembled and tested to ensure high quality and performance. The PC is delivered good to go right out of the box, with a fresh Windows installation and no unnecessary pre-installed software.
Components
Case: AZZA Celesta 340
Motherboard: ASUS PRIME A520M-K
Graphics card: Palit GeForce RTX™ 4070 Dual 12 GB
Processor: AMD Ryzen™ 7 5700X
RAM: Kingston FURY Beast DDR4 3200 MHz (2 x 8 GB)
Storage: Kingston NV2 2 TB M.2 2280 NVMe SSD
Power supply: Inter-Tech Argus BPS-700W Bronze
Cooling: Arctic Alpine 23 air cooler + Arctic P12 PWM PST Black 120 mm
Operating system: Windows 11 Home